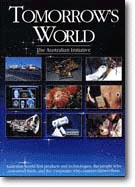 Australian world first products and technologies, the people who conceived them, and the companies who commercialised them
Welcome to the Internet edition of Tomorrow's World, The Australian Initiative, the first definitive publication about currently commercially available Australian world first and world best products and technologies.
The print edition has more than 75,000 authoritative words, 350 colour photographs and illustrations. This highly informative 224-page publication is about the silent heroes of Australia, whose ingenuity have resulted in some of the world's greatest innovations.
Commencing with a fact-filled chaper on Australia's remarkable inventive past, it includes some 300 current Australian world first innovations of international significance, and names the people and organisations behind them. Each concise technology review outlines the problem, explains the solution and considers the benefits of the innovation to people and industry.
Tomorrow's World has attracted a great deal of interest and positive comment from readers both in Australia and overseas. The book has been widely used by companies and governments to promote Australia as an innovative nation, and utilised by teachers as a key teaching resource.
The print edition of Tomorrow's World, The Australian Initiative, is available directly from the publishers for $55.00 including postage and GST.
Organisations with world first products, services and technologies are invited to submit their innovations for considered inclusion in future editions of the publication.
---
Public Notice: Due to an unresolved dispute with the Australian Trade Commission (Austrade), who copied and adopted as their own certain material from Tomorrow's World, the Australian Initiative, and published the material in their Australia Open for Business website, without remorse or recompense, access by Australian Government servers to this online edition has been blocked indefinitely.
---
Print Edition: ISBN 0646252119 - Paperback - 224 pages - 350 illustrations - $55.00 incl. GST.